Poetic recital conceived by Stanislas Roquette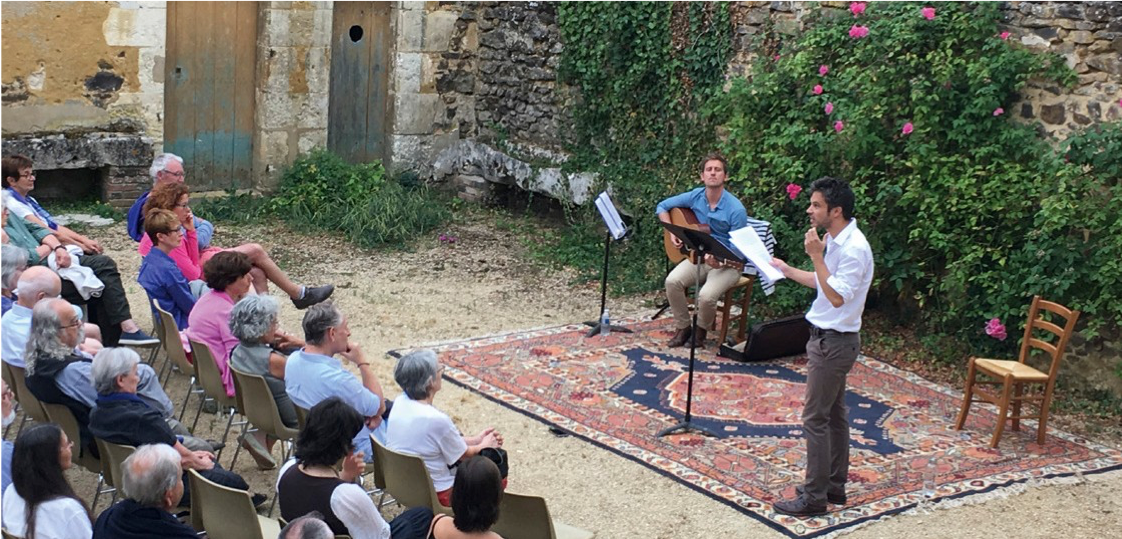 Stanislas Roquette offers a poetic recital which triggers the thought of the poet Jean-Pierre Siméon in his essay published in 2015 "La poésie sauvera le monde"[Poetry will save the world]. He takes it to question our relationship to language, while sharing classic and contemporary poems, most of them French, as Jean Vilar, for example, did. For fellow travelers, there are of course a few hits: Victor Hugo, Louis Aragon or Arthur Rimbaud, but also nuggets found in the work of Andrée Chédid or Henri Pichette, in the work of Liliane Wouters, Philippe Jaccottet or Christophe Tarkos. Not to mention a few forays into the new French song (Têtes Raides, Loïc Lantoine…). Accompanied on guitar and violin by musician Gilles Geenen, Stanislas Roquette pursues his search for an invigorating and embodied language, imbued with an energetic and luminous spirituality.
During the performance, he can invite a group of young people to take the stage to share a moment of collective poetry.
Design: Stanislas Roquette
Interpretation: Stanislas Roquette and Gilles Geenen
Music (guitar, violin): Gilles GeenenAn Artépo co-production, Maison de la Culture d'Amiens, Maison des Arts du Léman, Centre des Monuments Nationaux. With the support of Plateaux Sauvages and État D'Esprit Productions.
Reservations with Dorine Parma: noussommesunpoeme@gmail.com / 06 24 20 67 37